Life is an exploration
Apr. 28th, 2006 08:30 am rebirth

I woke up this morning to this:

http://www.demologue.com/pages/English/Who_We_Are.html

I swear my experience in thailand is the process of being reborn every day - thanks Mary! :)

She is a wonderful woman living in Morocco championing the Internet to cause a democratic revolution!

What I really need to give credit to her is her willingness to listen to my views of democracy as explained through dance and music - it wasn't easy - first I tried the segregation between music cultures (ie. trance vs house) at Burning Man and a ton of other angles including masculinity vs femininity on the dance floor!

I can't say I succeeded 100% so if any of you other dancers out there want to shed any ideas of how democracy shows up in the world of music and dance, please comment below - we're all ears!

hmm...you can dance your point i suppose...tell me where to meet you if this be the case... :D

1 comment - Leave a comment
Apr. 25th, 2006 06:00 pm Working Your Net

"It's not what you know, it's who you know." We've all heard that maxim before. It is becoming more and more important. Everyone has a social network: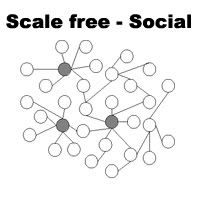 of one kind or another. As the issues in life, business, and technology become more complex, it becomes obvious that the more information and minds we have working on the problem at hand, the quicker and better the solution will be. Collaborative solutions are all the rage in industries from medicine to software and education to customer service. Collaborative, group forming networks:

is the goal: optimized distributed networks. How does it happen?

The use of the Internet in business has been a topic of discussion for over 10 years. Ever since the dot.com bust, business has continued to reevaluate what the value of the Internet is. What is beyond advertising revenue? It becomes clear that using the Internet as a networking and collaborative tool is our future. Collaborative networks start with building and enabling networks to form communities of practice where the work can be done.

Networks are an integral part of our lives and the benefits can be as simple as finding a babysitter. Start with your social network. Ask yourself, "What is the value of my network?" We're not talking about your WiFi or ethernet connection here. We are talking about the network of PEOPLE in your life. In other words, take the Internet and IT out of the picture and you're still left with the people around you, the people whom you trust to help you and connect you to the other people you need to fulfill your vision in life.

With all the talk of the role of the IT (the Internet, broadband, Web 2.0), there is one fundamental key to successful collaboration that can't be ignored - your networks. Many Thais have connected to others via Hotmail and MSN Messenger. Now we see a shift as people jump on the social networking bandwagon with 330,000 Thais already signed up at hi5.com, a site that has reached 20 million members worldwide in just 2 years.

There is clearly a trend and it's spreading to Thailand OUTSIDE of the Internet. In mid-March, Joshua Philips, launched donttellanyone.net in Bangkok. The basic principle was simple: connect club-goers in Bangkok online, have them chat and find common connections, and then have them meet in person at a launch party at Astra. It works!

The concept of connecting people online and having them meet face-to-face is not new. Back in 2001, Ryze.com took business networking to a whole new level by creating an online business network and organizing events across the United States for networkers to meet face-to-face. LinkedIn.com has become a quick revolution in social networking geared for business use. LinkedIn.com was able to go into the black in just 3 years - rare for a startup.

This hybrid-model of mixing online networks with face-to-face meetings continues to gain steam. Omidyar Networks (the investment arm of Pierre Omidyar, founder of eBay) just invested $2M in the startup, Meetup.com, to emphasize the importance of meeting face-to-face. Visible Path (visiblepath.com) asserts that your network is a direct result of communication paths and assets. Menlo ventures, the investors that funded Hotmail Corporation before it was acquired by Microsoft in 1998, just invested $10M in Visible Path to push this idea into the future.

In Thailand, we clearly aren't strangers when it comes to meeting face-to-face - many of us see this value immediately - some of us insist on meeting - you know who you are!

What shift in culture must take place in terms of how you see your networks and their potential? How do you use your network? Is your network helping you solve problems and build new opportunities on an on-going basis? Do you spend a significant amount of time online? Have you thought about how to look at the Internet as a business tool - one to facilitate your networking?

Take a look at your life: what networks have you created? Are your networks social, business, or a bit of both? How broad are your networks? What part of your networks are international? Do you interact primarily face-to-face or predominately online? Are there networks you can't wait to introduce your friends and colleagues and insist (perhaps even demand) that they participate too? What percent of your network reaches out to you as opposed to you reaching out to them?

Give these questions some thought. Next week, we'll focus in more detail on the cultural shifts that have to happen to mature your networks in Thailand. Now go out there and invite 4 people into your life! Happy networking! :)



(contributors: Linda Nowakowski and Chinarut Ruangchotvit, special thanks to Jay Lamey and Writely.com for helping us live our vision for collaboration!)


Current Location: Thonburi
Current Mood: accomplished


13 comments - Leave a comment
Apr. 7th, 2006 09:47 am Published in the Bangkok Post!

I got published on the front page of our most popular english newspaper, the Bangkok Post!




ok let me modify that - as you can see - the front of the "Database" - the IT section of the paper published once a week every wednesday - this makes me a true uber-geek right? :D

Believe it or not, I'm so virtual out here I have yet to touch the physical paper. A Google Alert told me about it here first:

http://www.bangkokpost.com/050406_Database/05Apr2006_data001.php (no longer valid as of June 2, 2008)
http://www.asiamedia.ucla.edu/article.asp?parentid=42492

I cannot verify at this time whether the print matches this copy.

You might laugh at inaccuracies around Mambo being a wiki. I didn't walk in thinking my presentation was focused on "tag clouds" and had a nice chat with the reporter. I learned how to give up criticism. I took on listening to how I may improve my presentation and be responsible for what others hear. What happened next is I got an invite to be a guest columnist in return!

It's been an exciting last few days and it's spurred a lot of activity including inspiration to get off my ass to put up an official home page

quick disclaimer: this page is designed to make it easy to find me. I had one report of someone sharing with me how difficult it was to sort all the references to me the web - I'm sure many of you can relate :)

I'm still trying to characterize my service so please bear with the rough edges - this action is a big step forward for me in the area of spontaneity. I invite criticism so contact me if you have something to contribute!

Lastly, I want to thank Paola for declaring a mission for the WOICT and being an inspiration to the group. This is proof-of-concept that words create your reality!

Now go create a miracle in the world! ;)

8 comments - Leave a comment
Feb. 20th, 2006 10:33 pm let it be

ok - this weekly thing was an experiment in giving myself space and creating some discipline. given that life is not really about the rigor of work - it's no surprise it's become a bit of a chore! :-o

so i'm gonna give up the monday thing and be in touch when i am.

a breakthrough i want to share i am having is in the area of truth - saying things exactly how they are regardless of whether it looks good or not - another way to put it - sharing life how it is and accepting where i am. in particular, giving up that i've done anything wrong.

For those of you who haven't seen me for 4-5 years - I used to be the kinda guy that really wouldn't share in fear of losing face. well - after last night - no more! really want to thank graham, eric, and my cousin, num. for dropping by our party (yes, more on this later) and just be a space for me to share openly - it was awesome. people in your life show up when you speak your truth - this is not a new concept to me - it's just shown up very powerfully seemingly for the first time in Thailand.

more about this new life later - Morn is falling asleep!

4 comments - Leave a comment
Feb. 15th, 2006 11:39 am Toni's got a great smile

[to anyone who got a blip with 2 postings - I really need an HTML based blog poster! at least I'm learning HTML finally though :)]


ok - folks - i've been laggin for any of you who checked in on monday - it was a holiday here and i just didn't want to plug into my computer god dammit! (excuse my language)

this pic is definitely the highlight from the past week. click on it to find out more about how this all came to together - it was quite inspiring!




Toni's got a great smile
Originally uploaded by chinarut.


other happenins:

GMail got a cool chat integration feature I got a change to play around with. Kudos to Doug for introducing me to Gmail - there was quite a bit of resistance in the beginning - no more!


my back is whacked. I hopped into one of the can trucks here and bumped my head, crouched, and ow! I didn't care about my head - my back is not happy :( it's not too serious and trying to take it easy on the back as much as possible. I may not be as responsive to matters as I usually am this week.


morn and I clearly made a mess over the wkd. we made up on valentine's day :) let's just say that when I uttered the exclamation f*ck out of frustration, she mistook it for f*ck you - oops - miscommunication!


I reconnected with the only other male Thai burner I know - Yeen! It was very random and it's good to hear he's also working on establishing himself in Thailand. congrats for makin it to your first year! so much more to come...heh..heh.. :P so that makes 3 thai burners in Thailand to date - we're growin!


i've got a Second Life cover letter in the works. thank you so much for all the input and support some of you have given me - I haven't been able to touch it since last thu. If you want to help me review my next round of edits, please do let me know!


had a good 2nd interview at the VFX startup. My task is to distinguish bottom line vs R&D projects. I'm really glad to hear Xye's real intention is to build a creative playground and research facility in Thailand.


we're all look for ole G to drop back into town this week. He's been studying Tai Fu Do for the past 4-5 weeks so I'm sure he'll be rock solid into the ground when he gets here!


spending lots of time helping the BM webteam out with evaluating Skype vs Gizmo Project. I've got a bulleted summary of this article if anybody wants it - just give me a holler.


my new online cave is taking shape! as some of you know, my computer got hacked into on Friday the 13th (in Jan). I pretty much want to keep this configuration for "research-only" purposes. Anything to keep me focused is a big plus these days.


alright - it's wed noonish and it feels like it's monday afternoon. what to do when time feels lost? I'm happy I'm getting through my list of things i'm present to (opposed to a list of things to do!)...until then - take it easy!

Current Music: Mousa April Mix 2005 - Opencloud


2 comments - Leave a comment
Feb. 6th, 2006 05:17 pm not in a rush...

hello boys and girls (ladies and gentleman sounds waaaaaay too formal, excuse me if anyone is offended!)

it's been an interesting week and want to keep this short lest I feel I'm always reporting about my life opposed to living it! :-o

so what's happening in my life is related to my last post - Second Life is turning out to be a more fascinating universe (some call it a "metaverse") than I thought. A job opportunity to be an International Liaison popped up since last week! This was a huge cataylst in throwing myself into Second Life and having a look around, meeting the people who make it happen. It's nothing like I've ever seen and it's too soon to make any judgements - I'm impressed and willing to be an early adoptor of sorts as I can really see the potential this technology has for soooooo many things in life.

I interviewed with the VFX startup I spoke about last week and I think my brain is still getting it's hands around the whole concept of being in Hollywood from Thailand. They are doing a great job launching the startup in Thailand and has big plans as to how he wants to move forward. He's given me quite a few options and I'm to follow up again this week to discuss what kind of agreement we're looking to make. I've been pretty busy trying to align my thoughts on VFX, dance, virtual reality, Burning Man, Thailand, and a myriad of other thoughts that come along with the turf. It's been an interesting exercise and it's on me to learn how to communicate this clearly without confusing
people!

Work aside, Morn and I are definitely are having a tough time with our relationship and really glad we had the chance to go out last saturday and meet Jay and his gang. They held a housewarming party/birthday party for our friend Tom, who is an exchange student at one of our largest universities, Thammasat. I met one his classmates, Renee, and was really suprised to hear than Australians think positive things about New Jersey. In case you don't know, New Joisey (yes, that's what we call it.) is not exactly seen in positive light by most Americans esp those who live on the East Coast. It is usually the butt of jokes and sometimes even called the "armpit of America" - not exactly touted as a place you must go by any means! So it was really nice to hear some encouragement that me and my childhood friends have something going for us - maybe I need to visit Australia sooner than I think :) in all honestly, I have some really great memories of New Jersey overall - beaches, haunted houses, amusement parks, malls, it in there!

Paul Van Dyk put on quite the show last week! my only gripe is the lack of room to dance. Sure, I found a spot to dance (eventually) but I really wanted everyone dancing all around me - so much so all I wanted was to be back at a deserted werehouse dance party in Oakland again. I got kinda homesick as some people would say - home being wonderful Radiance parties I've been and helped produce while in San Francisco. That is a culture I'll never forget and how confusing it gets when I feel like there needs to be yet another me to stand for transforming Thailand's dance culture. I don't feel like I have enough energy as is! The positive side to this all is Astra did add a new room to the place, one that looks real classy, has a wood dance floor, and I immediately saw an opportunity to do something new. I'm on a mission to hunt this club owner down and see what's the deal and what plans he has for this place!

oh...a props up to Eric for suggesting we go to dinner at Slim Bo - this restaurant is the bomb - it's vegetarian and they use some of the most amazing soy products I've ever tasted - their duck curry has to be eaten to be believed! to boot the whole experience, they have a fussball table - after 2 years of wandering around Thailand, it was a dream come true! I've been looking for a table, heard a rumor they is one in Kao San, and there it was - right in the middle of downtown! we had a nice energetic game and you bet I'll be back for more! in fact, a game of fussball before hitting the dance floor at RCA sounds like a dandy idea ;-)

ok..this is all I want to write for now - want to thank anyone and everyone in the world for making this possible - I won't feel so open about my life and how great things are (and are not) if it weren't for those of you reading!

the experience of writing this post truly feels natural - the trick is to keep it this way! :D

Current Mood: fatigued
Current Music: The Child - Mea Culpa


2 comments - Leave a comment
Feb. 6th, 2006 04:23 pm Another life?

We meet again!
Originally uploaded by chinarut.


ok - I bit the bullet - after resisting venturing into online worlds for quite some time (a fear of getting lost - really!) - I really want to thank Evonne for making me realize it's about the people creating the space, what they're up to, and the passion they bring with it. This is just one picture, one view, one snapshot of the beautiful space that represents her and her dreams. To interact with it is an amazing experience that cannot be said in words!

She has already seeded the idea to make Dance Labs unfold in this space and it's really got my noodle going!

First things first, make sure I have a handle on my "real" life :) More details in my next post!

2 comments - Leave a comment
Jan. 30th, 2006 02:13 pm

ok - first question I have for all you reading - does one need to believe in the medicine you're taking for it to be effective? with all the placebo research I read about - my attempts to believe in western medicine these days seem completely futile - I'm trying so hard! Good news is after 4 weeks of exercising my back with simple leg lifts, there is a noticeable improvement. Not a lot but some. I seem to have inherited some new tender points so my doctor just ordered Arcoxia of course, I'm not a doctor - I can hardly make sense of what's on the web pages I find - help!

So we got our dance groove on again this past Friday! this time it was salsa - a DJ from NYC (my birthplace!) was here and he really got people goin esp when he started playing what sounded like a combination of reggae and hip hop - it was nice! want to send a shout out to Amanda and her gang for showing up!

Dance continues to be a place I am able to explore myself - see what stops me - see what inspires me! Like dancing with someone who just isn't on the beat - I found myself quite impatient and frustrated at first and then realized I could give it up and create a new way to encourage this woman to be on the beat. So I used bigger arm motions - I started changing my feet - I did everything I could! Well - eventually she really started to get it - she had such good intentions - there was no way I could make her wrong for not getting it - she just kept on smiling and telling me in Thai how good I was - I just had to keep a straight face - whew - got through that one! :)

So it's monday (in Thailand) and I gotta make decision what to do this week as I always do. I've been reading my emails - following up on conversations from last week - somehow gotta integrate what I'm present to (my health and well being), what I have planned, following up on promises from last week, and of course, any new aspirations I have - call it a big crucible!

I'm looking for more context to my life. I am invited to look into working in the visual effects (VFX) industry this week and I've brainstormed a lot of ideas around this - where I can be of assistance. It became really interesting once I realized how much I'd love to direct and produce a film one day about the difference dance makes in one's life. Not just another dance documentary - I somehow want to make it different and gee...adding a few visual effects here and there couldn't hurt huh? then I realized there's this online world called Second Life that is really coming alive these days and it occurred to me how much the VFX industry could possibly enhance the whole experience of being online - like bring forth the magic you can really happen like at Burning Man! we're not talking video games boys and girls!

speaking of video games, I hadn't picked up a video game in ages - I was at my friend, Eric's house the other night and we battled each other in a bunch of puzzle games - it so reminded me of one-on-one Tetris for the game boy - who remembers this? George, if you're listening, I'll never forget our battles!

for those of you who continue to wonder what I do with my time, I've been spending some of my time volunteering for the web team that puts together the Burning Man website. This team is a really great group of folks. I'm so glad to find somewhere I can give back to the community - the Internet is the community's presence when 30 to 40 thousand of us are not on the playa. It's been fun trying to hash things out and I'm not so much about the website but rather helping the team connect and encourage Black Rock City (we have a postmark!) citizens to volunteer even if you live afar (like I do in Thailand!) It's a vision that's really important to me and how interesting it was to get an email inviting me to take action against all the telcos threatening the free, public world we appreciate on the Internet! Hell ya I wrote a personal note and I think you should too so click on the link!

In case you're not convinced (I don't give up that easily) - nobody screws around with our presence on the Internet - I have the internet to thank for helping me keep in touch with everyone I know from Germany to Korea to the states! As a American-Thai citizen, I want that channel between Thailand and the United States to stay open. Not every Thai citizen is privileged to take a phone and just call anywhere in the world whenever they want - some in our middle class aren't even aware the Internet allows us to do just that with their sons and daughters who go off to college. The internet is another line of support - I'll even call it life support! It's always there - just reach out when the going gets rough - yes, esp when you think you've gone mad! (yes this really happens!)

on that note, I'm just about done with lunch - Morn was so sweet to have someone deliver food to me while she was out - it's the little things in a relationship that make a difference!

ok - to those of you in BKK this thu nite, look forward to seeing ya at Astra for Paul van Dyk - I'm not ususally one for mega-DJs but I've never seen him live and gotta give him the benefit of the doubt ;-)

dance on!

Current Music: To Wish Impossible Things - the Cure


Leave a comment
Jan. 23rd, 2006 02:46 pm cave full of light or darkness?

well - i hope light!

last week with myself has been frustrating at times and englightening at others. so many peeps i'd love to get in touch with and at the end of the day, i hope y'all understand what works for me is posting here and being in touch with you you're wondering what the hell i'm doing - cuz to tell you the truth, i don't have a straight answer for you! just trust i'm gettin ready for my next battle and sorting things out. of course, a phone call or two doesn't hurt - i can go really inward!

so the challenge is this promise i made to myself to share about myself weekly (at minimum) what happened last week is i wrote an entry and decided to post it a week later [along with a call list i have no idea how to manage]. am I refining my thoughts or editing my thoughts? I'd like to say I give up "looking good" at every moment of my life but that's a fallacy (i think)!

well..reality is I haven't eaten lunch yet - and it's like i can't escape the desire to get this post done!

on that note...I'm going to go eat...write more later!

1 comment - Leave a comment
Jan. 19th, 2006 04:20 pm life's simpler pleasures

we have hot showers! after telling myself over n over n over again that i can live with cold showers - no more! we finally gave in today.

i tried sooooo hard over 2 years to give it a whirl - what was happening was i was just skipping showers never looking forward to mornings - ahem - not a good thing while you're looking for a job.

it may be simple but now i do look forward to a hot shower in the morning :)

i am soooooo Westernized it's not even funny!

perhaps time to stop being Thai when I'm not - such irony!

Current Mood:
satisfied

Leave a comment